Lentil Yam Delight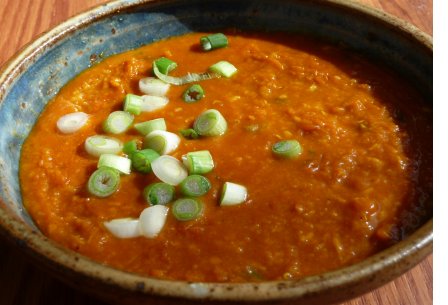 1 cup dried red lentils ( salmon colored)
1/2 teaspoon fresh ginger
Lemon zest & juice from 1 lemon
2 plum tomatoes, seeded, chopped
1/4 cup chopped fresh cilantro
1 jalapeño chili, seeded, chopped (optional)
2 tsp Wheat free tamari or coconut aminos or salt
* Asafetida is available at Indian markets and in many supermarkets.
Its name stems from the Persian "aza" (mastic resin) and the Latin "foetida," referring to its strong sulfurous odor. In the Indian herbal medicine Ayurveda, asafetida is used to stimulate appetite and digestion. It helps neutralize flatulence caused by beans and other legumes.
This spice is used as a digestive aid.
Heat Sesame oil in Large 7 qt pan over medium heat. Add mustard seeds, onion, garlic & ginger. Sauté until golden, add yams and cook for another 5-7 mins. Add water, lentils curry, asafetida, cumin Bring to a simmer – medium click low. Reduce heat, cook until lentils are tender. Add coconut milk, tomatoes, spinach lemon & zest. Season to taste with salt and pepper. Spoon rice into bowls. Spoon dal over. Top with cilantro and chili.